leafChat is an IRC client for Windows, Mac OS X, and Linux.
Chat with your friends using popular IRC networks. leafChat has a friendly, clean interface that doesn't get in the way of your conversations.
Connect to multiple servers at once on the same screen, so that it's easy to keep up with all your friends.
leafChat is free to use, but if you like it, please make a donation.
leafChat is open source. Source code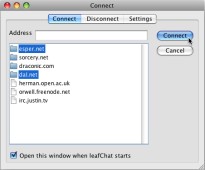 Project status
Last update:
v2.5
(2012-07-29)
Development on leafChat 2 continues, but there is no planned date for a next version at present.